Brisbane and Sydney are separated by roughly over 900kms and it takes 10 hours of constant driving to cover this distance. While regular road trips of such distances can be stressful, imagine the planning that goes into interstate moves. This makes it crucial to hire the services of Removalist Brisbane to Sydney.
We at Local & Interstate Removalist, understand the intricacies involved in the process and handle your move with utmost efficiency. Meticulous planning is critical to ensure that all components are transported in a safe and timely manner and that's something we always focus on.
Why Hire Removalist Brisbane to Sydney?
Moving from state to state isn't always light on the pocket, which is why many try to carry it out themselves. Although local moves are manageable without hiring the services of professionals, long-distance interstate moves are entirely different.
You need to ensure that all your possessions are safely transported and reach the destination on time. This makes it crucial to hire the services of the best interstate removalists. Here are a few more reasons why this is a good choice:
Planning Of Removals Brisbane To Sydney – Both planning and logistics are crucial elements of the moving process. Keep in mind that a lack of proper planning can result in loss or damage to your possessions. As expert furniture removalists, we realise the importance of planning and which is why we spend a considerable amount of time planning your move. We choose the best routes to avoid heavy traffic. We also plan everything based on your timing and convenience.
As a professional interstate removal company, we understand that each client has specific requirements, so we follow a customised approach. Our team of specialists will have detailed discussions with you and factor in your budget and timing while creating your plan.
Removalist Brisbane to Sydney Packing – Packing is one of the most crucial aspects of a move. It's best to let professional and safe Brisbane to Sydney movers tackle the job. Keep in mind that packing doesn't only involve placing items in a box and taping it. This is especially true if you're transporting the items over long distances. This makes it crucial to ensure that all your possessions are securely wrapped and have the appropriate protection in case of impacts.
Our team of highly-skilled removalists has years of experience carrying out all kinds of moves. They know which household items require extra protection and use superior quality materials and techniques to protect your precious cargo. We also offer clients with packing materials so that you wouldn't have to concern yourself with purchasing tape, boxes, and packing paper. Our best furniture removalists will arrive at your property with the necessary amount of packing materials to ensure that the job is completed to the highest standards.
Permits And Licenses Required For Interstate Removals – All professional interstate removal companies must have the necessary permits and licenses to cross state lines. We have carried out hundreds of moves throughout the years and understand the legal side. We see to it that all our drivers have valid and current licenses to operate the trucks.
Our company ensures that all the paperwork is ready for the trucks to cross the checkpoints without any significant delays.  Removalist trucks can be halted if the drivers don't have the appropriate paperwork, resulting in massive delays and add to your expenses.
Interstate Removalist Insurance – Every high-quality removalist Brisbane to Sydney has to have excellent insurance coverage to protect the clients' interests. Even well-planned moves can come across issues over longer distances. This makes carrying insurance coverage for interstate removals all the more critical.
A complete coverage prevents customers from spending additional money on replacements or repairs if something goes wrong or if your possessions get damaged. This makes it crucial to hire professional interstate removal companies.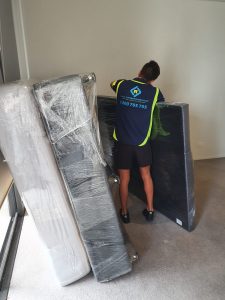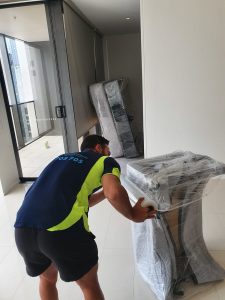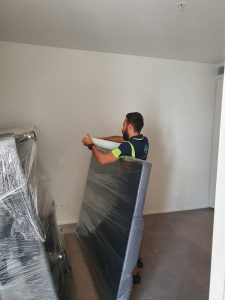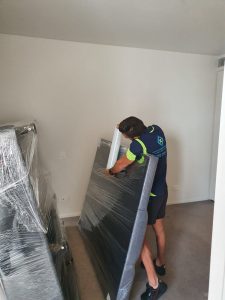 How do we help?
As a well-established and licensed operator, we understand the importance of customer satisfaction. This is why we go the extra mile to ensure clients have a great experience. Here are a few things we can help you out with:
Complete Interstate Removal Services – Our comprehensive packages include everything from packing and loading to unloading and unpacking all your possessions. This lets to sit back and focus on other essential tasks. Besides, our services also include packing materials and placing your items where you want them to be.
Furniture Removalist – Our well-planned and affordable Brisbane to Sydney removalists services are explicitly designed to transport furniture items from one state to another. For instance, our team of specialists can easily pack all your possessions and safely transport them to a new location in Sydney. They know how to carefully disassemble and reassemble all your furniture items. This enables us to transport large items like beds, cabinets, shelves, and tables with efficiency.
Backloading Option– At times, clients want to hire professional services but also want to save money. This is why we offer flexible packages designed for it. This is where you pack and unpack all items yourselves. At the same time, our team of best interstate removalists handle the loading, transporting, and unloading process. Opt for an interstate backloading company as it offers clients with a cost-efficient alternative. You can share the space of the truck and split the cost with other clients.
Affordable Interstate Removalists Company – Moving involves a significant financial expense, which is why we offer our customers with cost-effective options. We quote highly-affordable rates, and our team will work with you closely to create a plan that fits into your budget. We also have a removalist cost calculator on our website which will give you a reasonable estimate of all the costs involved.
When you are looking for affordable Brisbane to Sydney removals, hire our services. We offer clients with safe moves at competitive pricing. If you want to know more about our removalist Brisbane to Sydney services, don't hesitate to Contact Us at or give us a call at 1300 705 705 Local & Interstate Removalist. You can call us or fill in our online form, and we'll be happy to help.