A relocation job is a risky task when you plan to do it yourself. Packing small objects can be done with ease, but when it comes to packing heavy goods like furniture or equipment, you need manpower to help you out. Removalists Sydney to Singleton is an expert in this field and doing this packing job regularly. They know how heavy stuff should be packed and loaded in the trucks without injuring themselves. Carrying down the load can lead to injury if you do not know the exact rule of lifting. Due to this reason, people trying to do it on their own put them at risk. We at Local and Interstate Removals know what can be best for you and accordingly assign people to tackle the job.
Removalists Sydney to Singleton knows how to avoid risk during relocation
In order to maintain a safe work environment, we train our staffs technically, so that they can work properly in real situations. The work process involves lots of risky situations while dismantling the heavy furniture, carrying down the load from the top floor, or even while loading/ unloading process. Injury takes place more when the Sydney to Singleton Removalists do not follow the safety protocols while performing their duties. We take special care in addressing the safety norms so that our staff can avoid injuries and at the same time the goods are not damaged. Here is how we can avoid the risk of injury or damage:
Do proper dismantling of the furniture 
The best part of hiring a professional company is their experience. The team has years of experience in handling all types of furniture relocation tasks. The Furniture Removalist should properly dismantle the furniture and then pack them. This helps them to lower down the size of the good as well as its weight. Now, these parts can easily be carried and loaded in the trucks without injuring anyone. We make sure our team has the ability to dissect the furniture and bulky equipment before packing.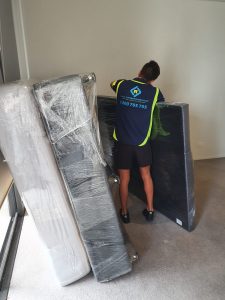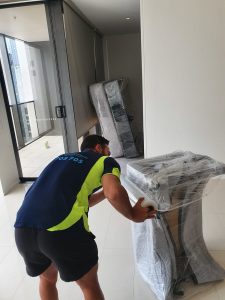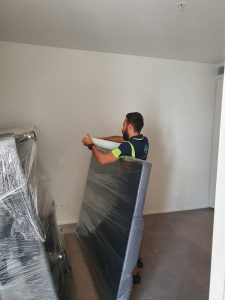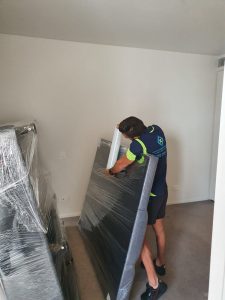 Vacant the cupboard before lifting 
We always make sure that the cupboard or refrigerator is empty before the lifting packing operation is done. The weight of the goods becomes less when the materials from inside are removed. 
Push the object instead of pulling 
NSW Country Removalists know very well that pulling a heavy object can strain the arms and in fact injure the backbone. So, we always push such objects in order to avoid inuring neck and back muscles. We also glide objects whenever possible without damaging the floor. 
The loose pieces of any equipment can cause injury if not properly packed. Sydney to Singleton movers inspects every single object before moving so that there are no loose pieces. 
Rotate the objects before lifting
Rotating a heavy object like a cupboard or refrigerator or sofa is done in order to ease the handling. Removals Sydney to Singleton skilfully rotates the heavy objects so that they can be easily moved out of the room and carried downstairs. 
Wear shoes and gloves while working
We always wear proper protective gear to avoid external injuries. We maintain quality through our Moving services and thus stress a lot on marinating safety from our side. 
Do not put pressure on your back
During pushing the goods or gliding them through the stairs it is necessary to maintain a proper body posture. The people who work for us have immense knowledge of how to stay safe even during carrying loads. The knees are used to put pressure, while the shoulder and back are kept straight. 
Use tools for carrying and lifting 
We also use proper tools like stair rollers, moving straps, gliders, mattress sling, etc. These are used to lift heavy objects without putting much pressure on the arms and back. We also use forklift trucks to load heavy goods, which cannot be loaded otherwise. Forklift trucks are also operated by experts so that the goods are not damaged while loading. 
Local and Interstate Removals work as a team to accomplish a task with the highest perfection. Our deals are affordable and can be easily calculated with the help of our Removalist cost calculator. Backloading service is one of our highly appreciated deals for people looking for cost-effective shifting. You can call Removalists Sydney to Singleton on 1300 705 705 if you need to clarify anything related to our service or our insurance policy. Our obligation-free service approach will be always happy to serve you without any condition.